Wireless Noise cancelling headphones allows you to listen without distractions
Premium and stylish design headphones
Google Assistant compatible with Voice Assistant feature
40 mm dynamic driver unit for powerful sound
Life of the battery is up yo 35 hrs so that you can go for a long listening and enjoy the music
In-built Mic for hands-free calling
This Headphones connect all the apps for both Android as well as iOS so as to regulate settings of the sound
Freedom from noise and wires
Listen without wires and block out unwanted ground noise — just hear your favorite music with digital noise cancellation.
Noise Cancelling Made for Travel with One Push
AINC which stands for Artificial Intelligence Noise Cancellation can easily analysis sound in the background and then adjustments can be made for the best performance on flights and all other noisy places. Only you need to press and hold the button provided on your device so as to activate it.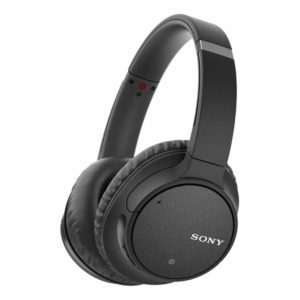 NFC One-touch for fast Connectivity
Near Field Communication abbreviated as NFC is the technology that makes sequences which are complex. You have to simply touch the particular NFC supporting devices to a on-body N-mark for a quick, wireless and effortless connection, and then you can start over the streaming content through Bluetooth connection. If there is no NFC then also there is no trouble. Even then you can connect it through manual mode which can be turn on via device's settings menu.
Listen All Day, agitate Quickly
Keep your music playing all day. A in built Li-ion battery can delivers power up to 30-35 hours which depends on the setting of music and is also rechargeable thorugh USB. Charge it for only 10 mins and have a 1 hours playback time in such short period of charging.
Hear it All with 40 mm Drivers
DSEE Restores Detail to your Digital Music
Boost the standard of your compressed music files. Virtual phones Technology (VPT) simulates bandstand , club, hall, or arena-style sound.
Headphones Become Smarter with Google Assistant
The WH – CH700N are going to be optimized for Google Assistant.
Soft Oval Earpads
The soft earpads shape around your ears for a cosy , comfortable fit.
You can see Related products also 
"You can see and comparison our price with Amazon"
"You can see and comparison our price with Flipkart"