Subject to the Terms and Conditions mentioned on the merchandise warranty card, Warranty shall be valid for repairs against any manufacturing defects for a period of 24 months from the date of purchase mentioned on Purchase Invoice Product description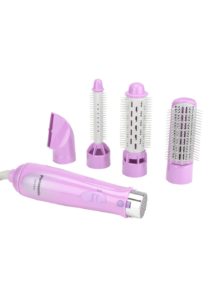 The EH-KA42 hair styler by Panasonic is meant with an extended 1.8 m cord capable of rotating 360 degrees. With the rotating function, you'll style every portion of your hair without letting the cord get into your way. The rotating cord ensures easy maneuvering. Feature 1 : 4 Attachments Feature 2 : 360 Degree Swivel Cord Feature 3 : Tangle-free 1.8 m Cord Brand : Panasonic Power Consumption : 660.The styler is compact and light-weight for blow drying and hair styling. It fits comfortably within the palm of your hand. it's perfect for giving your hair the styling that you simply have always desired. Whether you've got short or long hair, it works great for getting maximum volume. it's also splendid for creating a sleek look just the way you wish . Convenient to Use
an equivalent is provided for multi-functional and versatile hair styling options. the 2 heat temperature settings allow you to quickly style your hair and lock in moisture.

360°Swivel Cord
The elegant styler features an extended 1.8 m cord capable of rotating 360°. With this feature, you'll style every portion of your hair without the cord creating an obstruction. This practical solution ensures easy maneuvering of the styler with none effort.
Feature Rich Design
This professional styler features a handy design and is full of special features to hide every aspect of quick hair styling. The secured handle is anti-slip and fits comfortably in your hand without heating up.It helps keep hair supple and nourished while it avoids heat damage. Compact
This styler is sleek, lightweight and may be carried anywhere with you on your travels. It are often easily detached which makes it easy to wash and maintain. It can easy slip into your handbag, luggage or bag packs.
Multi-Functional and Handy Attachments
This styler comes with multiple attachments aimed toward increasing the power to try to to various hair styles. The styler has 4 nozzles namely blow brush, slim roller brush, siliconized brush, and blower nozzle.
Just Brush your Hair
With this styler, you'll easily style your hair a bit like you sweep your hair a day . Styling your hair has never been so simple and quick.Get the dreamy and tamed hair you've got always wanted.
"You can see and comparison our price with Amazon"
"You can see and comparison our price with Flipkart"