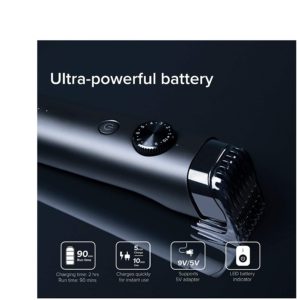 Mi Corded & Cordless Beared Trimmer is equipped with self -sharpening stainless steel blades that have rounded tips.This way , you can trim your beard without nick and cuts.
40 length settings with 0.5 mm precision (2 combs);ipx7 fully washable body for straightforward cleaning
Versatile corded and cordless usage options
You can enjoy up to 90 minutes of cordless use by simply charging quickly to ensure that you get to use it instantly .About 5 minutes of charging can offer you up to 10 minutes of shaving.
Mi trimmer is travel -friendly ,it's travel safety lock .Simply press and the lock button for up to 3 seconds to active the lock .
The body of this trimmer is water- resistant ,which means that you can wash it without worrying about damage .It's detachable head enable through cleaning as well.
You can choose to use this trimmer with or without a cord based on your convenience.

Mi Corded & Cordless Beared Trimmer  having 1 year warranty on manufacturing defects. To claim, please accompany the first bill to an authorized Xiaomi Service Center
Mi Trimmer blades accompany prior lubricant coating. it's recommended to use coconut oil to lubricate the underside of the blade if required
Versatile corded and cordless usage options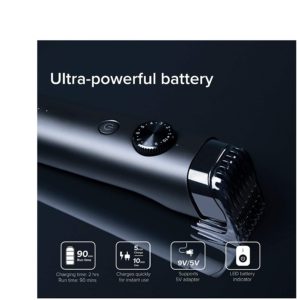 1 Lithium ion batteries required. (included)Item model number: XXQ01HM
Mi Corded & Cordless Beared Trimmer Specifications
Model No: XXQ01HM
Width ;3.8
Height ;15.4 cm
Weight 213 g
Cleaning Brush 1U
Travel Pouch 1U
trimming Comb 2U
Package contains Beard Trimmer 1U
User Manual 1U
Package contains Beard Trimmer 1U, User Manual 1U, cord 1U, trimming Comb 2U, Travel Pouch 1U, Cleaning Brush 1U
Width ;3.8
Height ;15.4 cm
Weight 213 g
You can see Related products also 
"You can see and comparison our price with Amazon"
"You can see and comparison our price with Flipkart"