Philips QP2525/10 OneBlade cordless trimmer allows you to style your beard the way you want. The philips one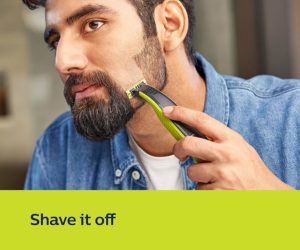 blade has a revolutionary new technology designed for men who wear facial styles and grow beards. It can style, trim and shave, while keeping the skin feeling soft .Trimmer is water resistant, so it is easy to clean just rinse it under the tap .Dual-sided blade can go in either direction for easy styling and precise edges. This One Blade trimmer is easy to maintain and operate. You can simply carry it in your bag for a quick trim on the go.
It's dual protection system has a protective plate on top of the cutter, preventing the blade from touching skin. At the same time ,the high-performance cutter power through hair at 200 times per second for precise sharp edges.
One blade Trimmer doesn't shave as close as a traditional blade-So your skin stays comfortable.
One blade is water resistant, so it is easy to clean. Just rinse it under the tap .You can also shave with or without foam-Whichever you prefer.
The Philips QP2525/10 OneBlade Trimmer are designed for lasting performance. For optimal performance, you will only need to replace each blade every 4 month.
rechargeable battery delivers 45 minutes of content performance after 8 hour charge.
The power of 3 style ,trim and shave
Keeps skin feeling soft
Get your style with one blade
Experience power of 3 Style ,trim, shave
Keep your skin feeling soft
Each Blade give up to 4 Months
For any other products related enquiry on 1800-419-8844
You can see Related products also 
"You can see and comparison our price with Amazon"
"You can see and comparison our price with Flipkart"